CardS12
HCS12 / S12X Controller Module with MC9S12D64 / MC9S12DP512 / MC9S12XDP512
HCS12 the easy way!
CardS12 is a versatile credit card-sized controller module equipped with a MC9S12D64. The module is a perfect platform for the development of new applications (rapid prototyping). Due to it's competitive price, it is also suitable for the small series production of devices.
The microcontroller MC9S12D64 is one of the state-of-the-art members of Freescale's HCS12 family. This MCU uses 16-bit data paths throughout and, at the same time, maintains compatibility to the HC11 and HC12 families from Freescale (formerly: Motorola). With a bus clock of up to 25 MHz and a considerable number of integrated peripheral functions, the HCS12 outperforms the former 8-bit MCUs significantly.
Interfaces
The conception of the new board is very similar to our Card12 module. It is equipped with two independent RS232 ports and a BDM interface for in-system programming and debugging. The integrated CAN module of the MC9S12D64 is complemented on-board by a high-speed CAN bus driver. In addition, the MCU contains a whole set of interface functions, such as SPI and I2C.
TwinPEEKs Monitor Program
For this HCS12 controller module, TwinPEEKs is available as a special monitor software. It allows download to and programming of Flash Memory and EEPROM without any additional hardware tools!
The monitor code resides in a write-protected Flash boot block (only 4KB). It can not be erased unintentionally.
TwinPEEKs is installed on every CardS12 at the time of delivery (*). The assembly language source code of the monitor is available on request.
CardS12.DP512
This module version is equipped with a Freescale MC9S12DP512 controller. Compared to the CardS12.D64, it has the following advantages:
Five independent CAN Interfaces
Three SPI modules
512 KB Flash Memory
4 KB EEPROM
14 KB RAM
New: CardS12.XDP5
Our latest CardS12 controller module is equipped with an MC9S12XDP512, which belongs to Freescale's S12X high-end 16-bit family. Compared to the HCS12 version, the CardS12.XDP5 provides:
Up to 40 MHz bus clock
32 KB RAM
Extended S12X instruction set
XGATE peripheral coprocessor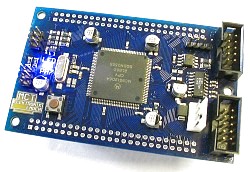 Microcontroller Info
MCU MC9S12D64 with:
HCS12 16-bit CPU, programming model and instruction set same as HC12
Bus clock up to 25 MHz!
112 pins, up to 89 I/O-pins
64 KB Flash
1 KB EEPROM
4 KB RAM
SPI, 2x SCI
IIC (Inter-IC Bus)
Enhanced Capture Timer
8 channel PWM
16 channel 10-bit A/D-converter
Board Features
Low-Power Oszillator with 16MHz crystal
Two RS232 ports with transceiver MAX232A
PCA82C251 CAN physical driver
Special LVI (reset) controller
Reset push button switch
Indicator LED
BDM12 (Background Debug Mode) connector
All controller pins are available at two double row header connectors
5V power supply required
Current consumption typ. 50mA
Credit card form factor: 3.4" x 2.1"
Package Contents
Controller Module with MC9S12D64 / MC9S12DP512 / MC9S12XDP512
TwinPEEKs Monitor Program resides in the MCU's Flash Memory (*)
RS232 cable (Sub-D9)
Two 50pin connectors + power connector
CardS12 hardware manual (PDF)
HCS12 Supplement CD containing assembler software, programming tools, collection of data sheets (device guides, application notes), C Compiler demo version and much more (*)
(*) Note: currently, there is no software included with the S12X module version!
Ordering Information
erneuter Wareneingang erwartet

CARDS12.D64


CardS12.D64 Controller Modul mit MC9S12D64

79,50 €

erneuter Wareneingang erwartet

CARDS12.DP512


CardS12.DP512 Controller Modul mit MC9S12DP512

99,50 €

sofort lieferbar

CARDS12.XDP5


CardS12.XDP5 Controller Modul mit MC9S12XDP512

59,50 €
Angebot freibleibend, Irrtum und Änderung vorbehalten. Diese gewerbliche Offerte richtet sich nicht an Verbraucher i.S.d. §13 BGB.
Letzte Änderung: 2020-04-05