VacuScope easy
Dual-channel Pulsation Meter for Dairy Farms
Expandable hand-held Milking Machine Pulsator Tester
Pulsators are used to generate the appropriate pressure levels and sequences in a milking machine. The intensity of the pressure (or vacuum) is as crucial for a good milking result as is the timing of the different pulse phases. Therefore, checking these parameters on a regular basis is both in the interest of animal welfare and helps increasing the efficiency of the milking process.
VacuScope easy is a handy vacuum measuring device which is intended to help the user checking the pulsation parameters of a milking machine on a regular basis.
Successor of VacuScope II
This new product is intended to replace the well-established pulsator tester VacuScope II. It is based on 30 years of experience in design and manufacturing of measuring devices for dairy farm equipment of Kraft & Butzke company, whose activities we started to integrate into our business from the beginning of the year 2022.
Modes of Operation
Pulsation Mode
In this mode, a pulsator of a milking device can be tested against standard specifications ISO 6690 and ISO 5707. This includes an instant display of any deviations.
Fluctuation Mode
The fluctuation measuring mode allows to analyze and display how the vacuum values in a milking cluster or in a milking machine change over time. In contrast to pulsation mode, the measuring parameters in fluctuation mode are freely selectable.
Protocol Printer
With the help of the VacuScope's protocol printer (optionally available) the test results can be documented easily - immediately on-site or later on - which provides a great benefit when putting the necessary documentation on file.
The printer is small enough to be stored in the transport case (optional item) together with the VacuScope easy main unit. This way, a printout is quickly available at any time needed.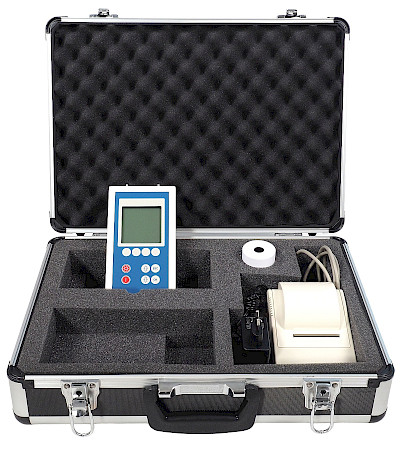 PC Connection
As an an additional way for creating a protocol, the VacuScope easy can be connected to a Windows PC with MS Excel installed. This option includes the transfer and analysis program on USB memory stick as well as a suitable serial connection cable with USB adapter.
External Sensors
The following external sensors can be attached to the VacuScope easy:
Temperature Sensor
Air Flow Meter
(additional) Vacuum Sensor
List of System components
We look forward to receiving your enquiry about the following system components:
| SKU | Description |
| --- | --- |
| KUBVSCE/STD | VacuScope easy - Milking machine measuring device |
| KUBVSCE/TKE | Transport case with foam insert for VacuScope easy |
| KUBZUB/DRU910 | Protocol Printer for VacuScope easy |
| KUBVSCE/SWPC | PC Software (requires MS Excel) incl. cable and USB adapter |
| KUBAFM0/STD | AFM 600 - Air Flow Meter up to 600 l/min |
| KUBAFM3/STD | AFM 3000 - Air Flow Meter up to 3000 l/min |
| KUBZUB/ETS | External Temperature Sensor -20..140°C |
| KUBZUB/EDS | External Vacuum Sensor |
Downloads + Links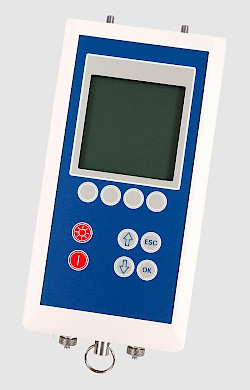 VacuScope easy
Technical Data
Number of channels: 2
Measuring range (vacuum): 0..60 kPa
Resolution: 0,1 kPa
Accuracy: 0,6 kPa (0,3 kPa typ.)
Graphical display: 128 x 128 pixel LCD, with backlight
10 keys, incl. 4 variable function keys
Memory: 200 data rows pulsation + 200 data data rows fluctuation
Display languages (selectable via menu):
DE, EN, ES, FR, IT, PL, PT, RU
Degree of protection: IP65
Power supply: 4x AA cell (alkaline batteries or NiMH accumulators)
Dimensions: approx. 195 x 100 x 50 mm
Weight: 420 g (without batt.)
Package Contents
Dual channel hand meter
4 alkaline batteries
Carrying strap
Hose set
4 teat dummies
Manual (PDF) on USB memory stick
Calibration protocol
System Requirements
For using the analysis software (optional item), a PC is required with MS Windows operating system and MS Excel installed (tested on Windows 10 with Excel versions 2013, 2016 and 2019).
Letzte Änderung: 2022-08-31